Swing Riot Dunedin runs a range of different events.
We run some of the top national Swing and Blues dance events in New Zealand. We also run regular workshop weekends and events plus a bunch of great social dancing opportunities that pop up through the year. As well as the events listed below, one-off gigs are posted on our facebook page. All are welcome – join us for a chat and have a dance!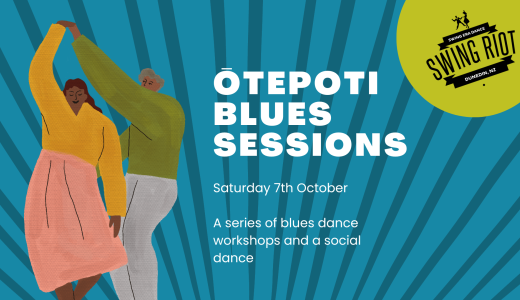 Ōtepoti Blues Sessions
Our first day of Ōtepoti Blues Sessions were held in October 2023. We are looking to make this a regular thing so keep your eyes peeled for a volume 2.
Find out more
The Dunedin Swing Festival
May 31st - June 3rd 2024
Formerly the Midwinter Swing Festival, our annual dance exchange over King's Birthday weekend. Featuring international instructors teaching workshops over three days, and top local musicians, this event is all you'll need to keep you warm this winter! A Lindy, Blues, Solo and Bal event with a great vibe, perfect for newer or more advanced dancers.
Find out more
Regular Socials
Bringing together all levels, this is the perfect opportunity to get to know more dancers in Dunedin while having great fun using your new skills to dance the night away. These are held irregularly at the moment. Keep an eye out for event details on Facebook or the calendar below!
Facebook page
Class and events calendar