2020 South Island Swing Championships
Saturday 26th and Sunday 27th of September
It's Dunedin's turn to host the South Island Swing Dance Competitions!
We loved the format the Christchurch came up with so, like last year – this year will be its own weekend event rather than running it as part of our Swing Fest. This will be the 9th year these competitions have been running and, as always, they are open to entry from anyone keen to compete.
Find all the information below or stay up-to-date with all the announcements by following the event on facebook.
Facebook event
The run down
There will be workshops, an evening social dance and a full day of competitions and prize giving.
Here's how it is shaping up!
All events apart from the awards is being held at Nga Maara Hall.
63 North Road, North East Valley, Dunedin 9010
Saturday workshops:
3 workshops run by the amazing Jesse Peters and Ana Bogdanovic from Auckland.
Class 1 (1pm - 2pm): How to Lindy Hop? Refreshing our lindy hop and throwing in some flashy moves to celebrate our return to the dance!
Class 2 (2:15pm - 3:15pm): Feel the beat! We'll be playing with rhythms to boost your creativity and improvisation.
Class 3 (3:30pm - 4:30pm): Get ready to shine - this class focuses on competition format and performing at your best.
Saturday evening Social and Showcases:
8pm (doors at 7:40pm)
You'll spend the evening dancing to the smooth swing styling of local Dunedin band Skin and Bone. If you are entering the showcase section of the competitions – this will be your time to shine, while the rest of us watch in awe and delight.
We will be taking names on the door for the Dunedin competition special: JEDI. This is a fun competition where both dancers are blind folded! It's always a crowd pleaser.
Sunday competitions:
Full day of competitions until 3pm.
Sections we are running (number of entries dependent):
Mix and match
Strictly Lindy
Blues
Balboa (cancelled)
Fast and furious (cancelled)
Solo Jazz/Charleston
You can see the details of all the sections here
Sunday Prize giving:
This will be held at Dog with Two Tails and will start from 4pm. Grab yourself a well deserved beverage and some curly fries before heading home.
How much is this all going to cost?
Full weekend pass:
$75 (waged) / $65 (unwaged)
This tidy sum gets you entry into any/all competitions, all workshops and the Saturday evening social.
Competition entry only:
$10
Entry into any/all competitions for the one total cost.
Saturday evening social:
$30
Dance the night away and watch the showcases. Cash on the door.
(if you don't have a full pass but are entering the showcases – email us here and we can work out a special price for you)
Saturday Workshops:
$15 per workshop
Pay cash on the door on the day.
Spectators for competitions:
You may want to bring your friends or family along to watch you compete on the Sunday. This will be a gold coin donation on the door per person.
Register now!
Code of conduct
At Swing Riot, we like to make sure everyone included and safe at our events. Please make sure you read our specific code of conduct for this event.
Code of Conduct
Safety team
Sections and rules...
Find out all the sections you can enter and the how it's all happening here.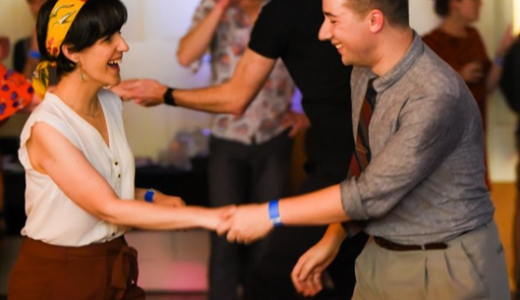 About the teachers
We are happy to announce that our teachers and guest judges for the weekend will be Jesse and Ana!
Ana and Jesse teach Lindy Hop, solo jazz and tap dance classes in Auckland and have traveled across New Zealand and abroad to share their love of the dance. They are passionate about the roots of the dance and try to incorporate these ideas into their teaching and dancing whenever they can. Ana and Jesse love seeing dancers having fun and take pride in helping students develop their own unique style. They had a blast last time they were in Dunedin and are looking forward to dancing with you again!
Cancellation Policy
Swing Riot cancels the event?
If we are forced to cancel the event for any reason (for instance, a return to a Covid alert level that would render the event impossible to be held) then you will be entitled to a full refund.
You can't come anymore?
If you have registered, paid and need to cancel your registration for any reason – then please contact us and we'll discuss refund options on a case-by-case basis.